Immodesty and Violence Against Women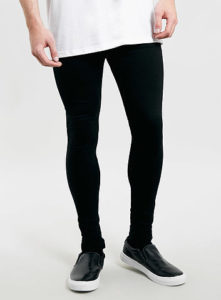 Last year a friend of mine was asked by a male pastor to change, because her jeans were too tight. Yes, you read correctly. Her jeans were too tight. To my knowledge - and please correct me if I am wrong - no man has ever been rebuked for wearing pants that were too tight. Even though we have lived through the advent of skinny jeans and ministry of Carl Lentz. But on a more serious note, recent events in South African have rocked the nation. Violence against women is once again generating considerable outcry—and rightly so. The hashtag #AmINext indicates widespread fear and anxiety among women. This has done for unspoken fear what #MeToo did for silent sufferers. But what can the church, especially Christian men, do?
To answer that question I want to return to my friend's wardrobe rebuke. It is true that the New Testament exhorts women to dress respectably and modestly (1 Timothy 2:9). As the NIV translates that verse, "I also want the women to dress modestly, with decency and propriety." It is not an overstatement to say that this is one of very few New Testament verses that directly deals with what women wear. Though instead of prescribing a timeless dress code, Christians are exhorted to adorn themselves with good deeds in keeping with their fear of God (2:10). In fact, the word typically translated as 'modest' in 2:9 appears nowhere else in the New Testament. The other words, respectable and self-controlled or propriety, are not usually concerned with apparel but our attitude. Therefore, in passing, I think these verses do address a women's choice of clothing but the emphasis is on her own heart. Others can debate the details.
Before you light your metaphorical torches, let me make a crucial proviso: under no circumstances is someone's choice of clothing to blame for someone else's sin—least of all when it comes to the disgusting realities of sexual assault and rape. Martin Luther famously said, 'You can't stop birds flying over your head but you can prevent them from nesting in your hair.' When men objectify women that is a choice, from lusting after them to lewd comments about them, long before violent and sexual crimes are committed against them. It is deeply unsettling in South Africa, even in some churches, that the question about what she was was wearing is close behind a tragic story of sexual assault. To use another analogy, consider crimes of passion. If I come home and find my wife in bed with another man and kill both of them, we can be assured that the judge or jury will not moderate my sentence because my actions were motivated. That is stupid—so is tying rape and sexual assault, or any sin for that matter, to her attire.
But what if a woman is dressed immodestly, by your own definition or according to your culture? In other words, what if you find yourself in the same shoes as the aforementioned pastor  was in. Firstly, the New Testament has a lot to say to you before you say anything to her. "Urge the younger men to be self-controlled" (Titus 2:6). For this is what God's gracious salvation trains us to be: "self-controlled, upright, and godly" (2:13-14; also see 2 Peter 1:6; 1 Corinthians 9:25). Contrast with the one mention of modesty in the New Testament, I lost track of how many times we are exhorted to be self-controlled. Greek even has more than one word for it. You may be familiar with the fruit of the Spirit: love, joy, peace, patience, kindness, goodness, faithfulness, gentleness, self-control, and modesty (Galatians 5:22-23). Except that the list stops at self-control. In fact, Paul goes on, "Those who belong to Christ Jesus have crucified the flesh with its passions and desires" (Galatians 5:24). Notice, that Christian maturity is less about covering up flesh as it is about crucifying your own flesh—which is New Testament language for sin. 
Finally, did that pastor have the right to challenge her about her tight jeans? No, I do not think that he did. At most, if I am reading 1 Timothy 2 correctly, he could ask her to consider whether she thought she was being immodest. Let me say again, how we define modesty is both cultural and personal. In other words, immodesty is rooted more in the desired outcomes for what you wear than a prescribed dress code. Let's not be legalists. In the Christian church there is only one occasion I can think of when I might be permitted to speak to a Christian women about what she is wearing. That is in the case that I am the weaker brother, either in terms of sin or my conscience. However, in that conversation, I must admit that the problem lies with me. Not her.  But Christian men, be self-controlled. Before a woman is made to feel guilty about being immodest, confess your own sin and lack of self-control. Men need to do far more repenting in this area than women need to do concerning their choice of clothing.