The Silver Chair: The Perseverance of Puddleglum
Earlier in this series of posts I confessed that The Horse and His Boy is my favourite of Lewis' chronicles. Therefore it is right at the outset of this post to admit this: The Silver Chair is my least favourite. However, at each rereading my appreciation is heightened, as – perhaps – my understanding deepens. Indeed, textbooks might readily yield information but the truth in stories is not always as obvious. Furthermore, as we saw in Prince Caspian, the stories we prefer are not always true. In this post we will spend almost all of our time with Puddleglum, the undoubted hero of C. S. Lewis' penultimate episode in the chronicles of Narnia.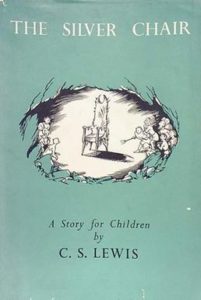 At their first meeting with Puddleglum we read, "His expression was solemn, his complexion muddy, and you could see at once that he took the serious view of life" (p580). If we were reading Lewis in the 1950s we might have labelled Puddleglum 'positively dull.' But it is his apparent cynicism that annoys Eustace and Jill, and many a reader, more than his dreariness. When he cautions the children about the Green Lady and the Gentle Giants of Harfang, Scrubb exclaims, "Bother his ideas! He's always expecting the worst, and he's always wrong" (p590). From the outset of their adventure, Puddleglum's voice is one of doubt and seeming despair. He appears weighed down by the heaviness of life and paralysed with at potential dangers—we would not describe him as courageous for he seems to lack conviction.
However, Puddleglum is more than the proverbial wet blanket. Having spoken of his concerns about the party seeking shelter at Harfang, his anxieties are explained to the reader, "Aslan's signs had said nothing about staying with giants, gentle or otherwise" (p591). After his bold antics and pluck help them escape from those less than gentle giants, they fall into the Underworld. Lost, cold, blinded by the darkness, and confronted by the Earthmen, the children begin to lose hope. But it is Puddleglum who pipes up, "Don't you let your spirits down, Pole. There's one thing you've got to remember. We're back on the right lines. We were to go under the Ruined City, and we are under it. We're following the instructions again" (p617). Puddleglum, unlike the more impetuous children, possesses resolve despite the situation, which rests in the sure words of Aslan.
If you have read The Silver Chair, and I imagine you must have if you have read this far, then you will know what takes place in the Underworld. The children and Puddleglum are spellbound by the Queen, rendered unable to save Prince Rilian or return to Narnia. When all seems lost Puddleglum burns himself in the fire, disrupting the Queen's enchantment. He then delivers a rousing speech, "I'm a chap who always liked to know the worst and then put the best face I can on it. So I won't deny any of what you said. But there's one thing more to be said, even so. Suppose we haveonly dreamed, or made up, all those things – trees and grass and sun and moon and stars and Aslan himself. Suppose we have. Then all I can say is that, in that case, the made up things seem a good deal more important than the real ones…I'm going to live as like a Narnian as I can even if there isn't any Aslan to lead it" (p633). The children are confronted on almost every page by Aslan's absence, the obscurity of his promises, and are not helped at all by their own weaknesses and doubts. This sense of abandonment by Aslan is nowhere felt more sharply than in the clutches of the Queen. So it is at this point in the story that the unmoved faith of the annoyingly honest Marsh-wiggle is desperately necessary. At no point was he blinded to their task by foolish optimism, and in their most trying moment we learn that that is because of his realism and resolve, both owed to Aslan.
It is as the party, with the addition of the recently rescued Rilian, make their way out of the Underworld that Lewis makes this theme clearer. Rilian notices the Narnian insignia and colours have appeared on his shield and states, "Doubtless this signifies that Aslan will be our good lord, whether he means us to live or die" (p637). What Rilian declares boldly, Puddleglum demonstrates repeatedly. His hopes and confidence are not bound up in his circumstances but the words of Aslan. Because of this when all seems lost he is not downcast but determined. Whereas the children are tossed back and forth by the waves of their emotions, Puddleglum is anchored by the promises of Aslan. One of the remarkable effects of this narrative progression is that while most readers are initially less than fond of him everyone concludes that he is the hero. His heroism is not obvious. In fact, in the end it is nothing other than being persuaded of Aslan's purposes.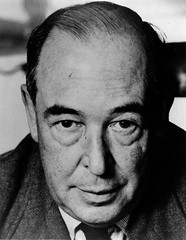 Saying their goodbyes, Puddleglum raises doubts over the future of Narnia and the abilities of their new king. Jill replies, "You're a regular old humbug. You sound as doleful as a funeral and I believe you're perfectly happy. And you talk as if you were afraid of everything, when you're really as brave as – as a lion" (p658). Towards the end of The Silver Chair we read that Rilian ruled Narnia well, bringing happiness to the land, "Though Puddleglum often pointed out that bright mornings brought on wet afternoons, and that you couldn't expect good times to last" (p663). It is instinctive, even after our journey with Puddleglum, to quietly resent his pessimism. But I wonder if Lewis concluded this story purposefully making one last jab at those whose confidence waxes and wanes with the coming and going of princes, with the changing tides of fortune. Puddleglum is not so foolish.
This post comes as a long-awaited instalment in our Narnia series, which will hopefully be concluded in the upcoming weeks. If you enjoyed it then please check out the previous articles discussing the theology and themes of C. S. Lewis' work: