Doodle: Hellenism, Ethics, and Old Testament Eschatology
Max Bemis, of the band Say Anything, sings: "God and death are none of my concerns / I'm no philosopher". And these words have often struck an uneasy chord with me, provoking much reflection. Studying philosophy at college I noticed that from the pre-Socratics through to the Hellenistic philosophers, Greek philosophy gave little thought to god, except for when a godlike being was invoked to explain their philosophy, see Aristotle's Unmoved Mover. But this is not to say that the Greeks did not believe in the gods, however anthropomorphic the Olympians were. Coming back to Bemis' words, a difficult question to get one's mind around is the difference between religion and philosophy, or perhaps faith and reason.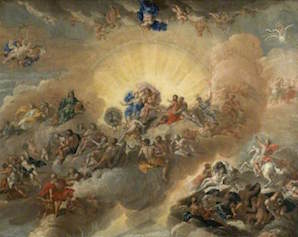 It seems to me, that the Greeks separated philosophy from their religious beliefs, as my lecturer Nathan Lovell said, 'They no longer wanted to attribute the workings of their world to capricious gods seemingly little more than infantile projections of men.' Philosophy came about to explain the world around us, what it is, why it changes, and where it comes from. And this was done with little reference to the Greek gods. Philosophy could provide epistemology and ontology, though both then and today it struggled to provide complete or consistent ethics. Furthermore the question of death, which, though running the risk of reductionism, we might call eschatology, fell largely by the way side. Perhaps these then are two distinguishing features between philosophy and religion. Only, they are not distinguishing features because philosophy does not deal with them, but because it lacks the depth to do so.
Generally, in Greek thought all the deceased went to Hades, but we must not assume that this the same as Sheol of Jewish thought. Without going into major detail, it is a well attested to fact that the Jews understood death very differently to their Greek counterparts. At the transfiguration we are shown that Elijah and Moses lived with God (Mark 9); in the Old Testament some believers did not die and went to be with God (Genesis 5:24; 2 Kings 2:11); this was also asssumed of believers who died (Psalm 23:6; 16:10-11; 17:15). We are not given much explanation of it but, at the raising of Lazarus, an embryionic theology of resurrection is evident amongst the first century Jews (John 11). In Hebrew thought the great hope of a future when God would be with his people is hard to get ignore (Psalm 27:4; 73:25-26). A personal God, contrast with impersonal philosophy, offers eschatology, an answer in death. Whereas philosophy battles to provide any real answers about our future.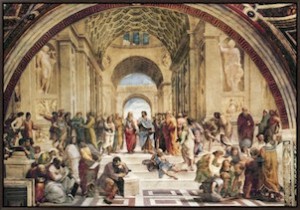 How philosophers got around this is seen in the Hellenistic philosophies of the Epicureans, Cynics and Stoics. If we look at the Epicureans, their solution to this problem was extravagant and unchaste hedonism. Such an approach was (and is) not only exclusive and classist, since few could afford such an extravagent lifesytle, it was ultimately nothing more than hopeless distraction. Cynicism, on the other hand, radically devalued human life, reducing us to little more than stray dogs scrounging for scraps. But it is hard to think that the avoidance and abandonment of happiness is an argument proving that it cannot be lost. Lastly, Stoicism approached life rationally, excepting all that happened in a fatalistic manner, attempting to merely make the most of what is. This philosophy, not unlike existentialism, gives a bleak coating to life and denies questions of justice, while also leaving moral decisions to the aristocracy. It is therefore no wonder that most of these philosophies, at least in terms of their operating titles, did not last. But if we look beneath surface of how people think today we will discover more Hellenistic philosophy than we think.
When Jesus bursts onto the scene we see a major contrast to Hellenism, which was the fruition and expansion of Old Testamant eschatology. He promises a resurrection to new life, guaranteed by his own. He does not offer a pipe dream salvation or distract our eyes from the horizon, but gives us his Holy Spirit in the present who is a downpayment of our future, enabling us to live in light of it. Ethics, then, make sense, for we belong to a new kingdom; and they are not merely set forth by Scripture but are also engraved on our hearts by the Spirit who enables us to live as kingdom people. Does philosophy need god to make sense? I do not think it does. But does philosophy make sense of the burning questions that surround death? I do not think it can.