Kings and Christian Leadership: Servants not Centres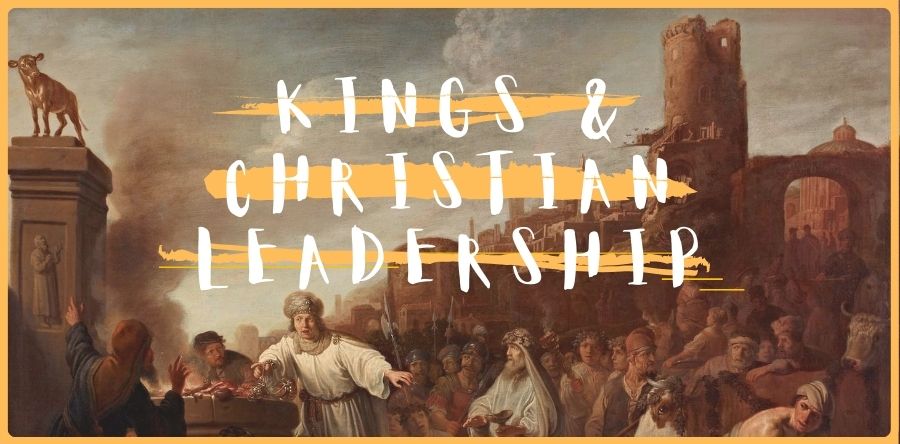 Picking up shortly where the post on 1 Kings 2 left off, the wisdom of Yahweh was in Solomon to carry out justice in Israel (1 Kings 3:28). But, as we saw in the introduction to this series, Solomon's leadership was restricted by something that resembled a constitution. Solomon's kingship was also far from autocratic or self-determinative. He exercised a clipped power, unlike other monarchies typical of the ancient Near East. This was Yahweh's design for kingship. However Israelite kings didn't necessarily follow it. Fortunately, as I argued in our second post on 1 Kings 2, Yahweh's faithfulness and promises were reliable even when the leaders of his people failed. Even if the reader misses Solomon's autocratic (or 'unconstitutional') judgment in 1 Kings 3 as a portent, his building of a judgment throne in his own palace (1 Kings 7:7) would almost certainly have made any Israelite uncomfortable. For all his strengths, perhaps because of them, Solomon seems to revel in being self-made and therefore unaccountable to anyone—not even Yahweh. This is clear in 1 Kings 4.
Solomon appoints twelve offices over Israel (1 Kings 4:7). Though these echo the twelve tribes, of Israel Gordon McConville concludes that this development was an indication of Solomon's movement away from the nation's earlier tribal alliance. McConville writes, "The division of Israel is now administrative, and organised around the needs of the royal household." Solomon's actions seem precedented, even prudent. But ultimately he is doing little more than reducing the twelve districts (or tribes) to economic units, designed to provide for his household all year around. Yahweh had made this kind of provision for the Levites (see Numbers 18). However, the nation of Israel was not established to provide for her king. In fact, 2 Samuel 5:12 expresses a stark opposite, "David knew that Yahweh had established him as king over Israel, and that he had exalted his kingdom for the sake of his people Israel."
Perhaps Solomon's administrative and pragmatic reordering of Israel into twelve economic units would have been bearable, if it hadn't also been so excessive. For the provisions mentioned in 1 Kings 4:22-23 are astonishingly prodigious (this will become clearer in 1 Kings 10:14-29). When we turn back to the kingship charter in Deuteronomy 17 we note pronounced economic sanctions for the Israelite monarchy. He must not acquire for himself excessive silver and gold (Deuteronomy 17:17b). Or what about Proverbs 30:9, which warns against great wealth causing the king to ask, 'Who is Yahweh?' Bruce Waltke notes that a similar warning was given to all of Israel in Deuteronomy 8:11-20. He writes, "excessive wealth is the soil for apostasy." Though Solomon's apostasy appears in embryonic form here, his greedy pomp and self-serving leadership is evident. Thus, as John Goldingay puts it, "Like all leadership, which theoretically exists for the sake of those it leads, kingship comes to be important in its own right…Leaders regularly use their position to enable them to live better than their people."
Later the writer of Kings will deliberately juxtapose the time taken to build Yahweh's temple (1 Kings 6:38) and Solomon's palace (7:1), shedding further light on Solomon's self-aggrandising leadership. Commenting on this, and the excesses of 1 Kings 4, Goldingay writes, "The king can reckon that the splendour of his monarchy appropriately symbolises the splendour of his state and even the splendour of his God. Building a fine palace necessitates that some way or other the centre draws to itself resources that otherwise would have enabled ordinary people to live more liveable lives." As Samuel had warned Israel when they requested a king like the nations: leaders tend to take from their people (1 Samuel 8:10-18). Though the monarchy did not necessitate oppression, for a king obedient and submissive to Yahweh would be a blessing to Israel (1 Samuel 12:12-15). But as things stand in the Solomon narrative at 1 Kings 4, he does not appear to be a servant of the people, but endlessly self-serving.
As we move towards application, I will first mention one of the more obvious points, because today it sadly demands stating. We should be suspicious of Christian leaders who draw more financial resources than is plainly necessary. Recall the two analogies Paul deploys after saying that church elders are "worthy double honour" (1 Timothy 5:17), an ox and a labourer (5:18). Of course, pastors need not be poor (see this article at TGCA). But as with Old Testament kings, it is certainly easy to leverage leadership positions for personal gain. To quote Goldingay again, "Possessing power makes it possible to exercise power in a way that furthers one's own interests, and one of the ways we do that is in making sure our own lives are more comfortable. We have ways of rationalising this process." The New Testament exhorts congregations to financially support gospel workers, but this has been tragically abused by many. Christian leadership, regardless of the size and success of the ministry, should not come with the bonuses and plush salaries found in the secular workplace.
Finally, let me make a broader application about leadership from 1 Kings 4. Christians leaders should not be the centre of the church but its chief servant. Just as kingship in Israel quickly lead to the elevation of mere men, so too churches often set up the pastor as a kind of king. And who doesn't want the pomp or prestige? Thus we are no stranger to Christian leaders who make ministries or churches - both explicitly and subtly - centre on them. They revel in the recognition and perhaps like Solomon can justify it. But for all the leadership responsibilities possessed and exercised by Christian leaders, the Old Testament teaches us that not even Israelite monarchs were meant to stand above the people. Despite Yahweh's repeated warnings in 1 Samuel and the kingship charter in Deuteronomy 17, Israel tolerated kings like the nations around them. Let us not make the same mistake in the church. For all the countless books on Christian leadership being published today, church leaders are nothing more than servants. Don't let them claim otherwise.