Kings and Christian Leadership: Church Politics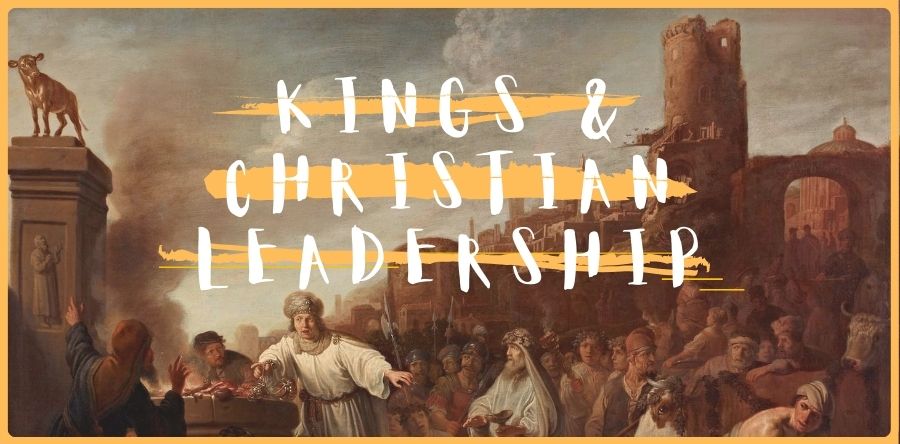 I started this series for a handful of reasons. One of the more important of those is my conviction that the Old Testament is Christian Scripture, which makes it indispensable in the task of theology. Alongside that conviction is another: true Christian leadership cannot exist apart from robust theology. But these convictions appear to clash with observable trends in the church and Christian leadership material today. Therefore, adapting academic work I have done on 1 Kings 1-11, I have set out to write a series of blog posts seeking to – at the very least – convince my readers that God has much to say about leadership in the Old Testament.
If you have done a course in biblical theology, or read a book explaining the Bible's overarching story, say Graeme Goldsworthy's According to Plan, you will most likely think of Solomon as someone who started well but finished badly. Most of what we know about him is found in 1 Kings 1-11. And from those chapters, many writers argue for a rise and fall in Solomon's reign. Most commentators agree that the centre of these chapters and Solomon's life is 1 Kings 7:1-12, when he builds structures that rival Yahweh's temple. And it is only here, some claim, that Solomon's double-mindedness becomes evident. But a more careful reading of the chapters preceding 1 Kings 7 reveals subtle hints that the seeds of Solomon's failure were sown long before. As Iain Provan, writes, "[Solomon] was in many ways an ideal king ruling over an ideal kingdom; but ideal and reality were always in some degree of tension, and eventually the reality was much less than the ideal."
Arguably the first place we are introduced to Kings' ambiguous presentation of Solomon is 1 Kings 2. Solomon succeeds his father David. But his ascension comes with political vengeance and posturing. Threats to the throne are eliminated. Solomon shows himself to be an heir of David by bloodying his hands. David's deathbed advice to Solomon is jarringly two-sided. Firstly, he urges his son to obey Yahweh (1 Kings 2:1-4). Solomon must be faithful to Yahweh's law. The success of the Davidic dynasty rests on fidelity to Yahweh. However, and secondly, David also describes the political layout for his son (2:5-9). Most unsettling in these verses are David's requests for the bloody deaths of his enemies. So Lissa Wray Beal, another commentator, writes, "Solomon is not untainted…Dynastic motivations mix readily with personal vengeance." As Solomon dispatches these political threats I do not think we are meant to conclude that Yahweh has fulfilled his promises to David in 2 Samuel 7. Instead, we see Solomon expressing insecurity in Yahweh's promises through the execution of personal justice. Couldn't Solomon have merely listened to David's instructions in 2:1-4? The text of Kings subtly suggests that this would have been enough.
After David's awkwardly mixed bag of advice he dies (2:10-11). Then we are told: Solomon sat on his father David's throne, and his kingdom was firmly established (2:12). Note that with the death of David, before Solomon's political flexing, the kingdom is "firmly" established. Solomon does not establish his own throne. As the Davidic heir he is the benefactor of Yahweh's promise of an eternal kingdom or dynasty. But, from 2:13 onwards, Solomon enacted the political instructions he received from David. Strikingly, after his politically savvy and savage power plays, Solomon's reign appears – even if only slightly – less secure. One might argue that an alarming presumption is on in display in 2:45, where he states, 'king Solomon will be blessed.' However, the subtle yet hugely significant detail comes in 2:46, 'the kingdom was established in Solomon's hand.' The intensifying modifier we saw in 2:12 – translated "firmly" – is now omitted. Thus if we outline the narrative, highlighting the details above: David dies and Solomon's kingdom is firmly established; then Solomon eliminates political threats to his throne; now his kingdom is merely established.
In addition to the ironic destabilising of Solomon's throne, Gordon McConville argues that Solomon's manner in 1 Kings 2 exceeds Samuel fears about the establishment of a monarch in Israel (see 1 Samuel 8). Though both David and Solomon are aware of the demands Yahweh places on them they are also well versed in the darker arts. They know how to win at the political game. McConville notes, "[In the book of Samuel] the potential for dynastic kingship to become tyrannous was declared and manifested. The picture in Kings extends and confirms such fears". However the elimination of political enemies is not commended by Yahweh. Just as it is not celebrated by the writer of Kings. The king's confidence was meant to be located in Yahweh, and demonstrated by faithful obedience. However, in these early chapters of 1 Kings we observe a dangerous judicial autonomy in Solomon's reign. While he tips his hat to the promises of Yahweh he seeks to secure his throne through other, more cunning, means. These means suggest that Solomon is a king more alike the nation's than one submissive to Yahweh.
I do not think the applications for church leadership are particularly hard to develop from our exegesis above. There are many ways to secure a church leadership position, or to establish and carry out a personal vision. And on more occasions than I can count I have heard Christian leaders being commended for their ability to play the political game, navigating church politics through cunning, even their ability to manipulate situations in their favour. But from 1 Kings 2 we might say four things in conclusion. Firstly, God does not commend these worldly means. He is far more concerned with the character of his leaders than their shrewd abilities. Secondly, and a little ironically, our own efforts to secure power through political savvy and manipulation can actually undermine our position. For such actions will almost certainly entail more of the same. This leads us to a third thing. Just as Yahweh demanded fidelity from his kings, so the requirements laid out in the New Testament call for godliness and grace. Therefore it is better to be the victim of underhanded ways than one who carries them out. Finally, our security – our very identity as Christians – should not to be located in our positions—least of all the power we possess over others. At the end of all things, our Lord will celebrate faithfulness even if it came alongside failure. But he will not commend success if it was driven by insecurity and achieved through imitating the world.