The Workings out of Women's Work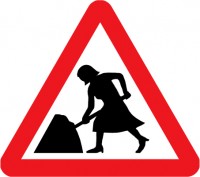 Given my genetic makeup and consequently the fact that I wear makeup, I am in the position once again where I am required to address my thoughts and beliefs regarding women in ministry. Just the other day I was in the regular weekly meeting with our senior pastor discussing ministry, difficulties and general feedback when, at the end of the hour, I was asked the question. For the ignorant among us, the question when speaking to a woman who is in, or wants to go into, ministry is, "what do you think the woman's role is in the church?"
Over the years I have been encouraged on more than one occasion with regards to my teaching ability, and I have also cherished and thoroughly enjoyed the moments I have spent teaching and explaining ideas - particularly the Scriptures. New acquaintances generally assume I want to work with little children, but when during my college years I declared that I am not in the Children's stream but the Pastoral stream of Theological training I was met with the raised eyebrow, concerned stares and the occasional, "…Oh!" I assume many think I want to pastor a church, impose feminist views on the congregation and achieve world domination. Sorry to disappoint, but that's not at all what I'm looking for. I simply love teaching, I love explaining, and I love to see others cherish and understand the Word of God.
However, my pastor was right; as a woman I need to be able to give an answer to the question. Men might have all sorts of ideas and views, and at times they have the liberty simply to say, "It's difficult and I'm still working out what I think exactly and where to draw the lines". This would not be a satisfactory answer from a woman though, because it directly affects the way she lives and ministers now. Before the woman can do anything she must ask the question.
There are many passages of Scripture I could turn to however, I think 1 Timothy 2 speaks most clearly on the issue; and when I say clearly I mean most directly addressing men and women in the church without focusing mainly on the roles of husbands and wives. "But…but…Paul is a male chauvinist and is just asserting his culturally impaired views". No, Paul is an apostle of Christ Jesus by the command of God our Savior and of Christ Jesus our hope (1 Tim 1:1); the reason Paul is writing at all is to preserve the doctrine and witness of the church and, Paul grounds his reasoning in universal and timeless truth since creation (1 Tim 2:13-14). Stott suggests that we use 'cultural transposition' at this point, and in many ways that is a helpful way of looking at the text, however it still places the reader in the judgment seat deciding what to file and what to put through the shredder.
Now obviously women are allowed to speak, since we have vocal chords and do the whole talking-thing way better than most men do. But the setting, situation, context in which women speak is the issue at hand. Women are encouraged to teach other women (Titus 2:3-4) and there are instances in which women are permitted to exercise their gifts in the appropriate way (1 Cor 11:5; Joel 2:28-29); but it is at the corporate church gathering that the shepherding, rebuking, correcting and teaching is to be done by a man.
For many women the problem comes down to desiring the position and headship of the man, but this was even considered at the very beginning where part of the curse was that Eve would desire her husbands' authority, and man would often abuse it (Gen 3:16). This is a hard verse for me to hear because yes, my own heart's desire does often drag me to the steps of treason, but as women we often become too caught up in the roles we can't play that we ignore and neglect those key areas that only we can fill.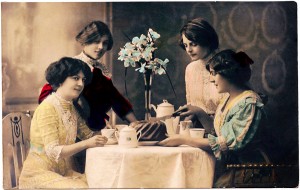 For women: Women's ministry in many churches has been reduced to tea parties and gossip sessions. It's our job to teach, instruct and model godliness to other women. Being women teaching women means we can connect and teach on a level that no man could attain. We can teach women gospel truth, deep theological gems, and fulfill our God given role, and even eat cake at the same time. If we neglect this role, there is no other man who is going to step in the gap. This is our baby and we need to take responsibility. It is my own conviction that when women do minister in a more corporate setting that it never questions the leadership of the elders or assumes authority over the pastor; it must always be done in a spirit of humility and submission.
For men: Encourage women to get involved in women's ministry. Just because women cannot hold the role of pastor and shepherd does not mean that every other door must be closed. Women have great potential if only they were taken seriously. I think in many cases the topic of women in ministry has become an issue simply because women are restricted from exercising their gifts at all. How many pastors do most churches employ before they see the need for a women's worker?
img class="alignright size-medium wp-image-997" alt="women and cake" src="http://www.rekindle.co.za/wp-content/uploads/2013/02/women-and-cake-300x190.jpg" width="300" height="190" /