The Not-Just-A-Person of Christ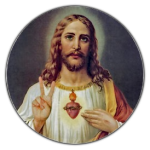 The person of Christ; who He is, is a fundamental Christian doctrine. Proudly, evangelicals deny the Arian heresy that claims Jesus was merely a created man. Again, the stalwarts of orthodoxy refute, on the other extreme, Docetism which claims that Jesus only appeared to be flesh and was, in fact, pure Spirit. Walking the fine line of affirming the hypostatic union is something that has been handed down to us from the vast manual of history. It may seem surprising, then, to accuse evangelical thinking of practically denying this truth. To write an article that grabs readers though, one must do surprising things, and this is the accusation brought by this blog today.

I had the opportunity to attend a sermon preached by Mark Driscoll in Cape Town a little while ago. His content was good; it was about Jesus. He described to us how Jesus suffered and how surmised various medical afflictions Jesus endured during the Passion episode. His descriptions of Jesus' suffering were dreadful and no detail was spared in this horrific account. His sermon culminated in the point that "we do not have a high priest who is unable to sympathize with our weaknesses" which I wholeheartedly agree with and praise God for. My criticism is, therefore, not of this sermon, but of the trend that this sermon is a part of.
These days it is fashionable to teach and to learn about the manhood of Jesus. After all, the fact that Jesus although fully God, was fully man means that He was able to die a substitutionary death. The fact that Jesus was fully man means that He understands our pain not only intellectually but personally, we can relate to Him, we can go to Him with our problems and difficulties and He's there to help us. All of this is true, the problem is, it is not the whole truth.
In his "Knowledge of the Holy", Tozer identifies the same problem;

Christians today appear to know Christ only after the flesh. They try to achieve
communion with Him by divesting Him of His burning holiness and unapproachable
majesty, the very attributes He veiled while on earth but assumed in fullness of glory
upon His ascension to the Father's right hand. The Christ of popular Christianity has a
weak smile and a halo. He has become Someone-up-There who likes people, at least
some people, and these are grateful but not too impressed.
If they need Him, He also needs them.
The trend I am reproving is leading us to no longer have a Jesus who is God, a Jesus who is infinite in His holiness. Who can look on sin no more than the Father can and who will righteously judge and punish evil come judgement day. In the conservative, reformed circles we know - to our shame - that the Holy Spirit is the forgotten member of the Trinity but we need to realise as well that Jesus is the distorted one or we will never be able to correct it.
This blog is a call to remember who Jesus is. The Christ, the anointed one who would be our man. But also, incarnate God, perfect and undefiled, holy and transcendent, glorious beyond imagining. When we casually append His name to our prayers as though magical, it is the majestic King of glory whose name we use. Let us be less flippant in the way we throw around our jokes and more sombre as we come before His throne.