The Limits of Emotional Intimacy between Christians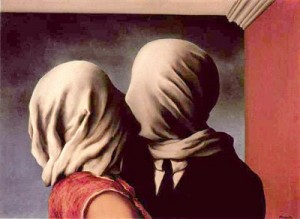 "Having purified your souls by your obedience to the truth for a sincere brotherly love, love one another earnestly from a pure heart" (1 Peter 1:22, ESV)
It is the goal of this essay to explore the ethical limitations of emotional intimacy between Christians. For this to be done, we must, of course, understand what emotional intimacy is – this calls for us to forge a definition of emotional intimacy. We shall then mine the biblical data for its positive and negative statements concerning the ethics of emotional intimacy. Due to the complexity of the issue, the purpose of this essay is not to go far beyond this point. The essay does not aim to suggest practical implementation strategies of the conclusions we reach; we shall not go beyond the ethical boundary lines we draw into the life-situations they impact 1.
The basic argument of this essay will be that emotional intimacy is never suggested as sinful – in fact, it is only encouraged. Thus, emotional intimacy is ethically acceptable until it is perverted. We shall, of course, explore a number of these perversions.
1. Locating Emotional Intimacy: the home of friendship.
We reach our first hurdle when we attempt to define emotional intimacy. Smidt (2010) argues that intimacy is basically trust, and so emotional intimacy is concerned with trusting another person with your emotions. L (2011) extends this beyond emotions, and suggests that it is a sharing of your "innermost selves"; it is "unbridled mutual self disclosure". This in turn leads Anon (2008) to speak of the deep knowledge of another person which is associated with emotional intimacy. The associated Wikipedia article (Emotional Intimacy, 2011) speaks of emotional intimacy involving "disclosing thoughts, feelings and emotions in order to reach an understanding, offer mutual support or build a sense of community". These are provided as an example that although most definitions bear much in common, there is no widely accepted definition that is specific enough for us to work with.
Yet, because these definitions have much in common, it is fair to say that there is a broad definition that is accepted. This causes us to look for the concepts which are most common to definitions of emotional intimacy. When we do this concepts like closeness, vulnerability and love are in the ascendancy. We shall, therefore, operate on the understanding that emotional intimacy is a spectrum with three determining components: closeness, vulnerability and love.
With this in place we should notice that the biblical imagery of friendship consists of the same three components. According to the DBI (2000), one of the images used to represent friendship is the knitting of souls (see Deut 13:6). This kind of friend, states the DBI (2000), is "a companion of one's innermost thoughts and feelings, resulting in an intense emotional attachment". Here the companion's intense emotional attachment results from the sharing of thoughts and feelings and portrays the idea of closeness, while their familiarity with their friend's innermost thoughts and feelings portray an idea of vulnerability. The idea of love is also associated with the knitting of souls, and we see an example of this between David and Jonathan (Haykin, 2007): "the soul of Jonathan was knit to the soul of David, and Jonathan loved him as his own soul" (1 Samuel 18:1, ESV). Other examples of such friendship can be seen in John 11:5, 11, 35-36 (Haykin, 2007).
'Love' is particularly important. This is because 'love' is used, in the Bible, to speak of "the deepest possible expression of the personality and of the closeness of personal relations" (Palmer, 1996). Thus while 'love' can be used as one item in a subset of our above description of 'friendship', it can also be used as a synonym for this same friendship.
At this point a comparative word study, of φιλεω and αγαπη, suggests itself as fruitful. This would, however, be inappropriate, for it is highly unlikely that there is any clear distinction between these Greek words, which are translated as 'love' (Palmer, 1996). Furthermore, the Old Testament word אהב is "in every way as broad in its usage as the English word" (Palmer, 1996). Accordingly, we shall not make progress by pursuing such word studies, and so we should not proceed down such a line.
We shall use emotional intimacy to refer to the close, vulnerable and loving nature of friendships.
2. The Call for Relationship: mutual love in the church.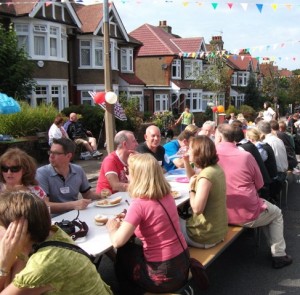 One of the important effects of Christ's death is the establishment of the church (1 Peter 2:9). The language used to describe the church and its relationships carries with it the ideas of closeness, vulnerability and love. We shall consider each of these in turn.
Firstly, it is not insignificant that the language used to describe the church carries with it connotations of relational closeness (Ephesians 2:19-22). John Calvin (quoted by Morris, 2000), in his comments on Hebrews 13:1, goes so far as to say that "We can only be Christians if we are brethren". For Christians to call each other 'brethren' draws them close as family, and familial closeness does not necessarily equate to relational closeness. Yet, passages like John 17:20-26 show us that this family closeness is marked by the same mutual love shared by the Father and the Son, which includes mutual self-giving, but it also has an aspect of 'oneness' or relational closeness.
Secondly, relational closeness implies a measure of vulnerability with each other. It is, however, still important that we highlight the specific biblical statements which call for this kind of vulnerability between Christians. Some of these include: mutual confession of sin (James 5:16); mutual edification (Hebrews 10:24-25); refusal to gossip (Proverbs 17:9); mutual comforting in affliction (2 Corinthians 1:3-7); mutual bearing of one another's burden's (Galatians 6:2); and sharing of counsel and mutual growth (Proverbs 27:9, 17). Each of these verses calls for Christians to share sensitive information about themselves with other Christians, thereby exposing themselves to potential injury. Consequently, it can be said that Christians are called to be vulnerable with one another.
Lastly, Christians are called to love one another. John 13:35 tells us that the perceivable mark of discipleship is reciprocal love amongst Christians. Thus Hebrews 13:1 calls Christians to "Let brotherly love continue". The obvious implication of this is that when "people come to believe in Jesus and to become members of the church they are to love all the other members" (Morris, 2000). Yet this love is not static, for Morris (2000) goes on to suggest that one implication of 1 Peter 4:8 is that "believers are to work at making their love for others in the household of faith stronger day by day".
Therefore it can be shown that Christians are to love, be close to and vulnerable with the church2. This leads to Christians adopting the title "Friends" (3 John 14).
3. The restrictions of mutual relationships.
3.1. These restrictions won't be found in emotional intimacy itself.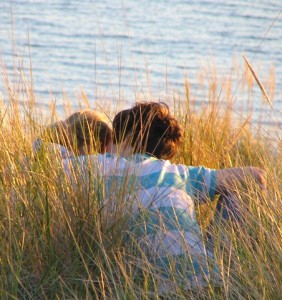 We should, at this point, pre-empt a number of counter points by highlighting that there are no life-status limitations placed on friendships and that the biblical remedy for loneliness is friendship, and not marriage.
Firstly, there are no limitations, with regards to life status, placed upon friendships within the church. No sooner is this point noted than one considers passages such as 1 Timothy 5:1-2. However, what is called for in these verses is appropriate respect and honour for older men and women, and what is denied is condescension and sexual impropriety towards younger men and women (Stott, 1996: 125-126). These categories are not mutually exclusive with friendship. While we should not argue too strongly from the silence on this point, we should bear in mind the lack of restriction with regards to cross-gender friendships. This also applies to friendships between Christians of different ethnic, social, educational and marital status. If we wish to make distinctions at this point we may have to relegate them to the category of wisdom and not godliness. Furthermore, James 2 speaks against excluding Christians, based on their economic class, from the benefits of the new community.
Secondly, the biblical remedy for loneliness is friendship and not marriage. Ash (2003: 117) points out that the "Bible has a great deal to say about the longings of the human heart. This is more pronounced in some places than in others, but there is much about love, friendship and fellowship. It is very striking, however, that almost never are these longings and their satisfaction placed in the context of sexual relationship". Ash (2003: 118) goes on to argue that this is seen clearly in Psalm 68:6, where God's remedy for the specifically stated problem of loneliness is not sexual, but familial relationships – "the cure is belonging, security, trustworthy relationships, but not necessarily the marriage bed". Clark (2009) wishes to locate this cure for loneliness within the church, for the gospel restores the relational 'nakedness' and mutual acceptance by making our union with one another a result of our union with Christ.
Thus we have our basis for exploring the limits of emotional intimacy. These limits will not be found in emotional intimacy itself, but will rather be found in perversions and distortions of emotional intimacy. We could perhaps group these as being rebellion against Peter's call, in 1 Peter 1:22, for our mutual love to be sincere and pure.
We would do well to note the ambivalence of friendship circles; they can lead one toward or away from godliness. The reason for this is that emotional intimacy breeds trust, which in turn leads to one valuing a friend's suggestions and opinions above any other critical assessment or input (cf. Lewis, 2002:97). Therefore, a high responsibility is placed on those who bear the trust of those close to them: to avoid causing their friends to stumble (Matthew 18:4-6), and to rather build them up in love and good deeds (Hebrews 10:24-25). The catalogue below is really an attempt to flesh out the major ways in which this could happen.
3.2. Privitism: emotional absorption.
There is the danger that emotional intimacy becomes exclusively private. It must be acknowledged that we are unable to reach deep emotional intimacy with an unlimited number of people, for each friendship demands time, and we are finite creatures. There will naturally then be groupings of those who are more emotionally intimate. However, these friendship circles cannot become insular or they begin to work against Jesus' missiological intent for our 'oneness', as seen in John 17:20-21. It is in light of this that we should heed Lewis' (2002: 73) wisdom that Friends are those who stand, "not face to face, absorbed in each other, but side to side, absorbed in a common interest": the extension and edification of the church.
3.3. Idolatry: the fear of man.
The fear of man is otherwise known as peer pressure, or co-dependency. Welch (1997: 40) says that a person knows they are a co-dependent when they "are more concerned about looking stupid (a fear of people) than [they] are about acting sinfully (fear of the Lord)". Thus we can say that this fear is reverence, which leads to submission to the explicit or perceived desires of individuals. It is appropriate to refer to this kind of reverence as idolatry. Further, this type of idolatry can be expressed in one particular relationship, a group of relationships (i.e. family relationships) or all relationships. Welch (1997: 24-40) argues that the reasons for one fearing people include fear of being exposed, humiliated or rejected.
Jesus presents a cutting response to this perversion of emotional intimacy. To the person who has higher reverence for people than God, Jesus says: "If anyone comes to me and does not hate his own father and mother and wife and children and brothers and sisters, yes, and even his own life, he cannot be my disciple" (Luke 14:26, ESV). Consequently we must trample under foot any emotional intimacy to which we give idolatrous reverence.
3.4. Sexuality: sexual intimacy.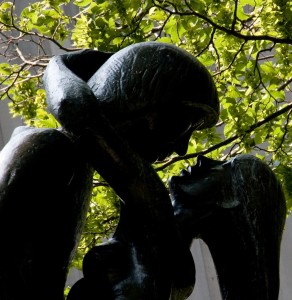 One of the major issues to be concerned about when developing any deep level of emotional intimacy is the inclusion of sexual intimacy. Grenz (1998: 98-103) argues that the only proper context for sexual intimacy is "the permanent, monogamous relationship called marriage"3. However, sexual intimacy extends far beyond the physical act of coitus. Collins (2007: 340) asserts, "Sexuality pervades all of life and ranges from mild feelings of pleasure about human relationships to sensual lovemaking and stimulating orgasms". Thus inclusion of sexual intimacy into any friendship outside of a marriage relationship must be said to be ethically inappropriate.
Let us be clear on the implications of the above. It is not to say that the potential for sexual intimacy between two people necessarily causes their emotional intimacy to be unethical. This would be to confuse what is distinguished. For "to say that something can be mistaken for, or turn into, something else is not to deny the difference between them" (Lewis, 2002: 88). It is when the intimacy becomes sexual that it becomes unethical.
Neither is it to say that all physical expressions of emotional intimacy are inappropriate. Ryken (2000) states that "Characteristic expressions of this union of hearts are an affectionate embrace or kiss, weeping, gift-giving and vows of loyalty". Acts 20:37 provides an example of such physical expression to emotional intimacy. Further, Romans 16:16, 1 Corinthians 16:20, 2 Corinthians 13:12, 1 Thessalonians and 1 Peter 5:14 are all exhortations towards physically expressing emotional intimacy. Again we must say that it is when these expressions become sexual that they become unethical.
3.5. Selfishness: Indifference & Apathy:
In John 15:12-13 Jesus says, "This is my commandment, that you love one another as I have loved you. Greater love has no one than this, that someone lays down his life for his friends". If we take nothing else from this, we must see that Christians are called to love fellow believers. There is a mutual exchange of love between Christians. Indeed, the DBI (2000) correctly points out that, "The proverb that "a friend loves at all times" (Prov 17:17) expresses both an obligation and a benefit. … In the Bible friendship is a mutual improvement activity, honing one for godly use". This forces Christians to face indifference and pride.
Firstly, Christians cannot be indifferent towards the spiritual well-being of their fellow believers4. The letter to the Hebrews, addressing Christians, says, "And let us consider how to stir up one another to love and good works, not neglecting to meet together, as is the habit of some, but encouraging one another" (Hebrews 10:24-25, ESV). Additionally, Matthew 18:15 calls Christians to confront any other believer who sins against them, and call them to repentance. Therefore, each individual disciple of Christ must have their emotional intimacy marked by attempts to edify and rebuke their fellow disciples. Where emotional intimacy is based on, or formed around, the constant inactivity of one party, whether it is due to indifference or co-dependency (as outlined above), it must be seen as unethical.
Secondly, Christians cannot be proud, and so refuse the encouragement or rebuke of their fellow believers. The exhortations above always have concrete recipients – and where one Christian is called to stir another up to love and good works, there is always another Christian who is being stirred up. This is simply to restate the point which the DBI (2000) made about biblical friendship always being a mutual improvement activity. Thus, when one finds themselves to be recipient of either rebuke or edification, one should be humble and receive this as an essential part of emotional intimacy.
Fowler (2009) helpfully summarises the picture which emerges when he states that we should be balanced in our giving and receiving of edification. Proverbs uses the imagery of two pieces of iron sharpening each other to describe the manner of growth above; a manner of growth which is integral to emotional intimacy. We are called to build one another up, through mutual edification. Therefore, where emotional intimacy is not marked by humility and other-person centredness, it has been perverted and is not sincere brotherly love (1 Peter 1:22).
We are called to build one another up and to sharpen one another. We cannot, then, be self-centred, nor can we be apathetic about a friend's sin.
4. Conclusion:
In this essay we have seen that emotional intimacy is a spectrum with three determining components: closeness, vulnerability and love. We have also seen that the biblical imagery of friendship comprises the same three components. Further, Christians are called to love, be close to and vulnerable with the church. Thus the church is the home of friendship, and therefore emotional intimacy. It was then argued that the ethical limits of emotional intimacy are not found in some intrinsic aspect but are rather found in perversions and distortions of the purity of friendship. We then proceeded to explore a number of these perversions. Throughout this essay the ethical call has become clear, and it is well expressed through the quotation at the beginning of this essay: "Having purified your souls by your obedience to the truth for a sincere brotherly love, love one another earnestly from a pure heart" (1 Peter 1:22, ESV). This is the goal towards which we should strive, together.
________________________________________
Endnotes
1 There is, however, an additional attachment (in the email you received) with a number of suggestions of practical areas worth applying these conclusions to. Unfortunately, there was not the time to work through these points in detail. Return to post
2 Bear in mind that emotional intimacy is a spectrum and this does not call for absolute emotional intimacy with every other Christian, yet some measure of emotional intimacy should be present. Fowler (2009) provides a helpful example of this in the life of Jesus: "While Christ was on earth physically, He was not equally intimate with all His disciples. Out of the vast crowds who followed Him, there were seventy whom He trusted sufficiently to send out proclaiming the Kingdom. Of the seventy, He spent the majority of the time teaching only twelve men whom He had personally selected. There was only one family mentioned in Scripture with whom He frequently had fellowship. Only three of the twelve disciples were permitted with Him in His most revealing moments, such as on the Mount of Transfiguration and in Gethsemane. Finally, only one disciple was given the title "the disciple whom Jesus loved," only one reclined on His breast at the Last Supper: John the Beloved. While on the cross Jesus charged John with the responsibility and privilege of caring for Mary and she was the only person for whom He made special provision after His departure". Return to post
3 Ash (2003: 211) defines marriage as "the voluntary sexual and public social union of one man and one woman from different families. This union is patterned upon the union of God with his people his bride, the Christ with his church. Intrinsic to this union is God's calling to lifelong exclusive sexual faithfulness". Return to post
4 It is worth bearing in mind that these points here can equally apply for reasons such as co-dependency. Return to post
Bibliography:
ANON. 2008. Intimacy. [web:] http://bit.ly/nuBnVc. Date of access: 14 May 2011.
ASH, C. 2003. Marriage: sex in the service of God. Leicester : Inter-Varsity Press.
CLARK, J.V. 2009. Single and Lonely: Finding the Intimacy You Desire [web:] http://bit.ly/qyirtk. Date of Access: 9 May 2011.
COLLINS, G. 2007. Christian Counseling: A comprehensive guide. 3rd ed. Nashville, TN : Thomas Nelson.
CROFT, S. 2007. Biblical dating: from "hi" to "I do" in a year. [web:] http://bit.ly/pZor9k. Date of Access: 9 May 2011.
DBI (The Dictionary of Biblical Imagery). 2000. "Friendship" Downers Grove, IL : InterVarsity Press. Available: Libronix.
Emotional Affair. 2011, April 17. In Wikipedia: The free encyclopedia. Retrieved May 9, 2011, from http://bit.ly/qqrdLd.
Emotional Intimacy. 2011, May 6. In Wikipedia: The free encyclopedia. Retrieved May 9, 2011, from http://bit.ly/qcv6TQ.
FOWLER, R. 2009. The Intimacy Trap. [Web:] http://bit.ly/nu6Lkq. Date of Access: 12 May 2011.
GRENZ, S.J. 1998. Sexual ethics: a biblical perspective. Carlisle: Paternoster Press.
HADLEY, S. 2008. Object of my affection. [web:] http://bit.ly/pLKijf. Date of Access: 9 May 2011.
HAYKIN, M. 2007. With a little help from my friends. [web:] http://bit.ly/nqM3S6. Date of Access: 9 May 2011.
L, C. 2011. Emotional intimacy. [web:] http://bit.ly/nzb0yc. Date of Access: 10 May 2011.
LEWIS, C.S. 2002. The four loves. London: Harper Collins Publishers.
MORRIS, L.L. 2000. Love. (In MARTIN, R.P., DAVIDS, P.H. Dictionary of the Later New Testament and Its Developments. Downers Grove, IL : InterVarsity Press. Available: Libronix.
PALMER, F.H. 1996. Love, Beloved. (In Wood, D.R.W. New Bible Dictionary. InterVarsity Press).
SMALLEY, G. 2003. Men and emotional intimacy. [web:] http://bit.ly/mYYVxl. Date of Access: 10 May 2011.
SMIDT, J. 2010. Reclaim biblical intimacy. [web:] http://bit.ly/pSjzZC. Date of Access: 9 May 2011.
STOTT, J.R.W. 1996. Guard the truth: the message of 1 Timothy & Titus. Downers Grove, IL: InterVarsity Press. (The Bible Speaks Today).
THORNBURG, S. 2009. On becoming a safe male. [Web:] http://bit.ly/q8olju. Date of Access: 12 May 2011.
WELCH, E.T. 1997. When people are big and God is small: overcoming peer pressure, codependency, and the fear of man. Phillipsburg, NJ : P&R Publishing.
WELCH, E.T. 2011. Intimacy step 1: enjoying. [web:] http://bit.ly/is4avW. Date of Access: 10 May 2011.