Doodle: "No One is Told Any Story but Their Own"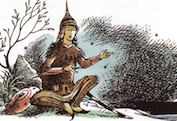 I concluded my previous post on Narnia by briefly touching on Aslan's refusal to tell people any story but their own. The characters in The Horse and His Boy need to learn this important truth: Aslan is at the back of all stories (p302), yet he will only tell people their story and not someone else's. Only Aslan can reveal to us what we really are – both glorious and tragically fallen creatures – but he will tell us no more than this. To borrow Aslan's words from Prince Caspian: "You come of the Lord Adam and the Lady Eve. And that is both honour enough to erect the head of the poorest beggar, and shame enough to bow the shoulders of the greatest emperor on earth" (p416). In The Horse and His Boy, it is Aravis who struggles most in seeing her true self by hearing her own story. But before we get to her let us set the scene, as C. S. Lewis did.
When Shasta finally meets Aslan it is a wonderful revelation for he learns that behind his entire life, and even its most painful events, sat an author who longed to meet him. As Shasta learns that there was only ever one lion pursuing them throughout their journey he realises that it was Aslan who inflicted the terrible wounds on Aravis' back, during their flight to the Southern March (p281). Asking after the reason he is told, "Child, I am telling you your story, not hers, I tell no one any story but his own." A little later, when Shasta pleads with Edmund and insists he is not a traitor, despite overhearing their council in Tashbaan, the King of Narnia alludes to this truth that everyone must learn: "Try not to hear what's meant for other ears" (p288). Now we can get to Aravis' story and Lewis' point.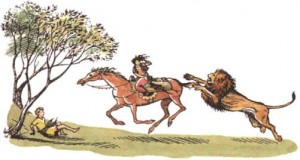 Rowan Williams believes that this repeated idea reveals every human's desire to be distracted from their own story, the parts we ignore and find unbearable. He writes, "We need to know what we have done, in all its dimensions." We need to fully grasp the reality about ourselves, the dark truths we find it easier to forget. When the Hermit explains Aravis' wounds he says: "Though they smart they are no more serious than if they had been the cuts of a whip. It must have been a very strange lion; for instead of catching you out of the saddle and getting his teeth into you, he has only drawn his claws across your back" (p273). Aravis considers it luck, but the Hermit says that in all his years he has never met any such thing as luck, adding, "There is something about all this that I do not understand: but if ever we need to know it, you may be sure that we shall" (p274). At this point in the narrative, Aravis is yet to meet Aslan and hear her story. And when she does, her wounds help her accept the harm she caused; along with the depths of herself she refused to plumb.
Enter Aslan, whose words are more smarting than Aravis' wounds: "The scratches on your back, tear for tear, throb for throb, blood for blood, were equal to the stripes laid on the back of your stepmother's slave because of the drugged sleep you cast upon her. You needed to know what it felt like" (p299). Little mention is made of her stepmother's servant, but on first meeting Bree and Shasta, Aravis recalls her escape and coolly dismisses the beating that it would result in for the drugged slave, stating that she deserved it (p224). Shasta is sympathetic for the slave, claiming that her suffering was unfair, and Aravis snaps at him, for she does not do anything to please him. However, as we approach the end of Lewis' narrative it is clear that Aravis has been changed. Not only has her pride softened and her temper waned, but also through her wounds she becomes aware that her actions reach far beyond her own desires. Anxiously, she asks if any more harm will come to the slave and Aslan responds, "I am telling you your story, not hers. No one is told any story but their own."