Book Review: The Reformation (Stephen J. Nichols)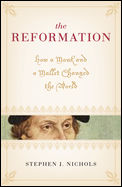 It seems appropriate that the first content on this site should be a review of a book about the reformation. "The Reformation" was published in 2007 but as usual, it took its time getting to South African shores. I picked my copy up at CUM Books a few months ago (sorry) for only R20 so it was quite a bargain.
Nichols has a way of retelling history which draws you in. The book follows a sort of chronological/geographical approach, beginning with a chapter justifying the book and its contents. He then moves on through Luther, Zwingli and Calvin but has interesting chapters on the Anabaptists (which I don't think he handled that well).
I particularly enjoyed his sixth and seventh chapters entitled "A King and a Divorce" about "The Anglicans and the British Reformation" and "Men in Black" about "The Puritans and the British Reformation" as I was largely ignorant of the history of the period. The surprise is the last chapter about "The Untold Story of Women and the Reformation" about women like Lady Grey or, Wibrandis Rosenblatt, a woman who had four husbands all of whom played significant roles in the reformation.
Nichols does a brilliant job of writing simply enough for anyone to read. It wasn't so dense as to lose you and force you to reread paragraphs so as not to miss anything and yet it was dense enough that it was well worth the read.
The author also works at bringing the reformation into our context (which may have had some impact on my enjoyment of the book). I would gladly recommend this book to anyone wanting to get an overview of the reformation and I enjoyed Nichol's writing so much that I've just bought his books on Martin Luther (this may still be on sale at CUM for R40) and Jonathan Edwards (I got this one from Good Neighbours).